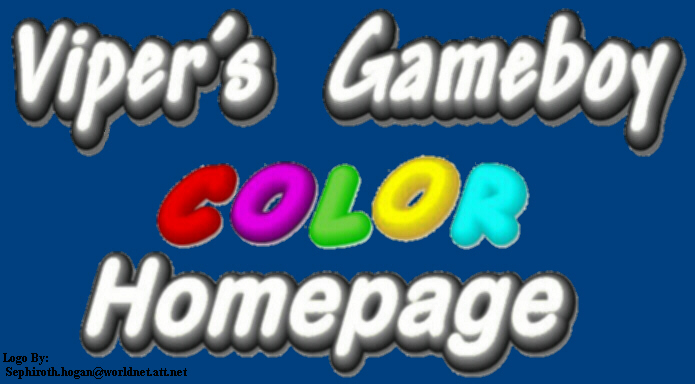 "The People's Web Site"
Last Updated October 8, 1999!
People's Section Updated April 24, 1999
GB News Updated October 8, 1999
Welcome everyone to my page! I am Viper, I run this site along with Oddjob. This is one of the few GB Color web sites, and you can find a variety of things, such as codes, faqs, release dates, and EVERYTHING GAMEBOY! We update often so comeback soon. Check the news section for whats going on in our site, and find out the latest GB News. Hope u like the site!
What the deal with the "People's site?" Well, we are the only GameBoy Color site that is for the people! We do what u ask, u want a link, its up, u have a question, it will be answered. The Peoples section is only for the people. It has Reader Reviews, it has Question and Answers, it has a message board, a chat, a forum, a poll, and a High Score section! Check it out!
---
News

October 8, 1999

- Added reviews for The Legend Of Zelda: Link's Awakening DX and Ken Griffey Jr.'s Slugfest.

GBC News

- News on the Game Boy Advance: it will be a horizontally-designed system, with 4 buttons(A, B, X, and Y, most likely), plus SELECT and START, and it will have two speakers, presumably not the same low-quality MIDI-based system used in GBC. Up to 65,000 colors will be displayed at once, it is a 32 bit system, and it will have a resolution of 240 X 160 instead of 160 X 144. It will be a much larger screen(a wide view in ratios much like modern computer monitors), and significantly more detailed. And with 4 buttons instead of 2, expect much better fighting and sports games, plus graphically superior RPG's and platform games. Here's the best news: it will be backwards compatable with all pre-existing Game Boy and Game Boy Color titles.

~Turok

September 29, 1999

- Added a review for Duke Nukem.

GBC News

- More news on the upcoming Legend Of Zelda trilogy: The Mysterious Acorn will be interconnected with the other two games. You can start the trilogy from any game, although The Mysterious Acorn will be the first released. Probably by Game Link cable, the plots of the three games will change depending on the order you play them in. The games will each be based on a different part of the Triforce. The Mysterious Acorn will be about the recovery of the Triforce Of Power.

~Turok

September 26, 1999

- Added a review for Shadowgate Classic.

GBC News

- The newest game in the Legend Of Zelda series, The Mysterious Acorn, will be out on GBC in Japan in December. We should see it in the states by early 2000. There are other Zelda games on the way for the GBC too, including two other original games and the ports of the NES games.

~Turok

September 25, 1999

- Added reviews for Donkey Kong and R-Type DX.

GBC News

- Nintendo is working on a new system called the Game Boy Advanced, which will have backwards compatability through emulation(I don't know what the hell that really means, other than maybe downloading the games through its internet connection).

- Games set to come out soon include a massively-revamped Asteroids and the-brace yourselves- 3D Resident Evil! Resident Evil will contain two entire missions. The screenshots look unbelievable.

~Turok

July 9, 1999

- Added a review for Super Mario Bros. Deluxe.

~Turok

July 6, 1999

- Added a review for Metroid II.

GBC News

- Deja Vu, the classic detective/puzzle game for the NES, will be rereleased this fall on Game Boy Color in North America, packaged with its sequel on the same Game Pak. It joins fellow NES classics Crystalis and Castlevania II on Nintendo's fall release for GBC. Like the possibly upcoming Dragon Warrior DX, players should keep in mind that in Deja Vu DX, two great games are sold for the price of one. Don't pass this one up.

~Turok

June 29, 1999
- I would like to thank Turok18 for the update yesterday, and for fixing the framed version.
- I added GS codes for 6 more games! Bust-A-Move 4, A Bug's Life, Bomberman, Bomberman GB, Boomer Advernture, and Bonk's Adventure!
- Plus! New Layout for the GS Page!

June 28, 1999

- Well, this update is being made by me, Turok18, the site's new Chief Updater, for lack of a better description.

- Remember the Dragon Warrior series? Known as Dragon Quest in Japan, the series was Nintendo's first, and arguably best, forray into RPG's. Dragon Quest I and II will be released on one Game Boy Color cartridge in Japan on September 23. They will also be released in Europe later, meaning that the Dragon Warrior DX game will likely make it to North America.
---
- News will tell you the latest news and developments of Gameboy and our site. Go there often
- Old News will bring you to the history of our site and GB since January 1st
- The People's Section: See above!
- Box Art / Pictures will bring you to our collection of pics!
- Gameshark Codes will bring you to a section dedicated to GS codes for GB games.
- Game Genie Codes will bring you to a section dedicated to GS codes for GB
- Relese Dates will tell you when all the hottest games are comming out
- Reviews will bring you to both Reader Reviews and Staff Reviews
- Check out some games and stories from our staff and from the reader! There are also downloadable games!
- Codes will bring you to a list of games we currently have cheats for
- FAQs will bring you to walkthroughs of games
- Want to know who the people who run this site are? Want to know the games they have so you can e-mail them questions? Then click there.
- Visit our favorite sites or add your own by clicking on links
---
Hope you like the site! Come back frequently, for I will update it often.
---
Have a Question/Review/Code? Send it to Viper or Oddjob
---
people have been here since January 1st
FastCounter by LinkExchange

[View My Guestbook] [Sign My Guestbook]
ADD ONE OF OUR BANNARS AND BUTTONS
and i'll add yours!
YOU CAN FIND THE BANNERS IN THE BOX ART/PICTURE SECTION!
---
Come BACK SOON!